Black internationalism, anti-colonialism and Cold War repression: The social and political struggles of the 20th century through the eyes of a Black woman writer, radical thinker, and world traveler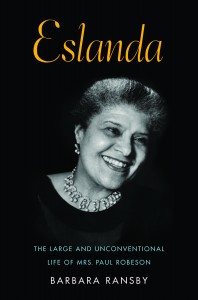 Eslanda: The Large and Unconventional Life of Mrs. Paul Robeson (Yale University Press, January 8, 2013) is a deeply researched biography that chronicles an amazing life set against the backdrop of some of the most pivotal events of the twentieth century: the Great Depression and the rise of fascism; the anti-colonial struggles in Africa, Asia and the Caribbean; World War II and the founding of the United Nations: the Chinese revolution; the anti-communist witch hunts of the 1950s; and the rise of the U.S. Civil Rights and Black Power movements. Eslanda (Essie) Robeson traveled to every corner of the globe and witnessed history in the making, a history she wrote about and spoke about.
Her friends and associates included heads of state, world-renowned artists and writers, and revolutionaries. Her career and commitments took her many places: colonial Africa in 1936, the front lines of the Spanish Civil War, the founding meeting of the United Nations, Nazi-occupied Berlin, Stalin's Russia, and China two months after Mao's revolution. She studied with Bronislaw Malinowski, vacationed with Nikita Khrushchev, befriended Jawaharlal Nehru, interviewed Mahatma Gandhi, danced with Eugene O'Neill, flirted with Marcel Duchamp, dined with Noel Coward and maintained deep and complicated friendships with Vijaya Pandit, Emma Goldman, Jomo Kenyatta, W.E.B. and Shirley DuBois, Langston Hughes, and Kwame Nkrumah. She was a woman of unusual accomplishment—an anthropologist, a prolific journalist, a tireless advocate of women's rights, an outspoken anti-colonial and antiracist activist, and an internationally sought-after speaker.
Yet historians, for the most part, have confined Essie to the role of Mrs. Paul Robeson, a wife hidden in the large shadow cast by her famous husband. This book, by award-winning biographer, Barbara Ransby (author of Ella Baker and the Black Freedom Movement) changes all that. Essie Robeson's story is told for the first time in all of its complexity and in the context of the dynamic historical times in which she lived.
Reviews
"This long overdue biography of a bold scholar-activist emerging from the shadow of her famous husband is a gift, and such are Ransby's narrative skills that I wept when, in her final pages, the vibrant Essie died, two days shy of 70. Ransby has a history of rescuing historically overlooked black female leaders; a prior biography was of the venerable civil rights activist Ella Baker. This new work is a major contribution to her glorious reclamation project."
–Joan Steinau Lester, Ms. Magazine
"Fascinating…A poignant portrait of a peripatetic, human rights activist willing to challenge oppression of any form wherever she could find it."
—Kam Williams, Insight
"What Barbara Ransby achieved in her biography of Ella Baker is repeated with verve and astonishing insight in 'Eslanda: The Labor and Unconventional Life of Mrs. Paul Robeson'."
–Herb Boyd, New York Amsterdam News
"Compelling."
–Eleanor J. Bader, In These Times
For more information:
For upcoming speaking engagements and interviews, please go to the Speaking page.
For Barbara's interviews and book talks, please go to Media & Interviews.
For interviews, review copies or book events contact info@barbararansby.com.